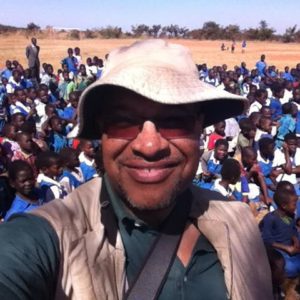 Dr Darryl Matthews
Rev Darryl Mark Matthews is the son of the late Rev. Dr. Verner R. and Emily L. Matthews.  He grew up in Neptune and graduated from Neptune Sr High in 1979.  He accepted the Lord at an early age and was baptized by his father at Second Baptist Church in Asbury Park, NJ.  He accepted the call to the ministry 1983 while in college at the Mt Moriah Baptist Church in Los Angeles, CA.
While residing in Pennsylvania, Rev Matthews completed his Bachelor's degree from the Thomas Edison State College (NJ) in July 1994 and his Master's of Divinity degree from the Divinity School at Howard University (Washington, D.C.) graduating with honors (4.0 GPA) in December, 1997.
The Lord has blessed Rev Matthews to serve under a number of other pastorates in MI, IN, NJ, PA, FL and OK since his initial call.  Rev Matthews was called to pastor the First Chinese Church of Christ in Honolulu, HI in September, 2000 and served from May, 2001 to January 2004.  During his tenure he revived the weekly Bible Study and instituted a monthly Young Adult Fellowship.  As part of FCCC's outreach, Rev Matthews launched a weekly TV broadcast entitled, Be Faithful.  In the community, Rev Matthews served on the Steering Committee of the Jesus Hawaii Project and developed its website and served on the Pastoral Advisory Board of Hawaiian Islands Ministries.  In July 2002, Rev Matthews visited mainland China on a two-week missionary trip.
From November 2007 through January 2009, Rev Matthews served as an associate minister at the First Baptist Church of College Hill under the pastorate of Rev Evan Burrows where served on the ministerial staff as well as working with the AV ministry, Entrepreneurs ministry, Sunday School and the New Membership Ministry.  He launched the first semester of Financial Peace University in September 2008.
Rev Matthews served as the pastor at St Mark Missionary Baptist Church in Tampa from February 2009 through August 2014.   Under his leadership, new Men's (Iron Sharpens Iron) and Women's (Women of Worship) ministries were created, the church by-laws were revamped and a new mission outreach to Malawi, Africa culminated with multiple trips to Africa from 2010-2016.
Following Rev Matthews tenure at St Mark, he was awarded an honorary Doctor of Divinity degree from the Elbon-Solutions College of Ministry (CA) in October, 2014.  As an outgrowth of his Africa mission work, Dr Matthews along with his wife, Jowancia, founded Africa Vital Living Inc.  AVL is a 501(c)3 approved non-profit that provides educational assistance, agricultural support and water well digging and repair services to local communities on the African continent.